This store requires javascript to be enabled for some features to work correctly.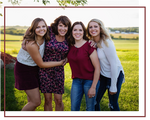 Contact the Farm Chicks
We would love to hear from you!
We are so glad you have chosen to visit A Farm Chick's Closet. We look forward to hearing you! Submit your comments and inquiries about our farm girl selections with the contact form below.
Proudly supporting farmers
Frequently Asked Questions
+ What is your return policy?
We gladly accept returns within 30-days for store credit only. View our return policy
+ How do your clothes (jeans, tops) fit?
Fit may vary by item and brand. We do our best to add accurate size and fit details to each item's product description. You can always email us for specific sizing.
+ What is the address to ship back to?
A Farm Chick's Closet 247 County Rd. Y Baldwin, WI 54002
+ What forms of payment do you accept?
We accept all major credit cards and PayPal.
+ How do you ship?
We use USPS 1-3 day first class shipping. View our shipping policy.
+ Do you ship internationally?
Yes! We can ship internationally. However, all shipping costs will be charged, regardless of order size. View our shipping policy.