This store requires javascript to be enabled for some features to work correctly.
a look in our closet
Fashion Favorites From A Family of Farm Girls
A Farm Chick's Closet is an online boutique of our fashion favorites for the every day farm girl on the go. We share fun, stylish, casual, and affordable pieces you'll want in your closet.
FREE SHIPPING ON ORDER OF $100 OR MORE
FREE SHIPPING ON ORDER OF $100 OR MORE
affordable • quality • fun
trendy clothes for the farm girl on the go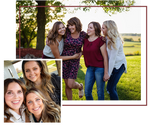 A family of farm girls
We are a family of farm chick's who have a strong passion for agriculture and fashion.  A strange combination - but we are strong, energetic, intelligent women who choose to look good when not in the barn. 
 
Simple, stylish, casual and affordable fashion. 
Whether you are a farmHer or just a rural lifestyle lover, our selection of clothes and accessories will have you looking and feeling good without emptying the bank. And the pieces we share can be worn over and over again.

We love and support farmers!
By supporting our small business, you are also supporting our love for agriculture and the people who work tirelessly to ensure you have a safe and ample food supply.
About Us
Customer Love
"I love the realistic style and prices! Every item can be worn for any kind of occasion, and you don't have to break the bank! Items are always shipped in a timely fashion. And, if something doesn't fit, Liz is super fair about exchanges."

Brittany Rabas

"I absolutely love shopping through A Farm Chick's Closet and supporting this local boutique. All the clothing and accessories I have purchased have been great quality, and the service is excellent."

LaNay Hervey

"I have placed several orders from A Farm Chick's Closet; shorts, shirts and jumpsuits. I have been very happy with everything. I highly recommend ordering from A Farm Chick's Closet!"

Pam Shrewsbury